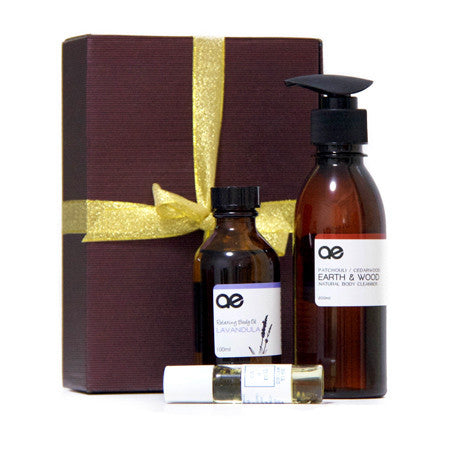 ULTIMATE WIND DOWN
:: BEST VALUE! ::
RELAXING BODY CLEANSER + LAVANDULA BODY OIL + DREAMTIME AROMA ROLL ON 
The ultimate relaxation kit. Enough said!
EARTH & WOOD 200ml - A centering and calming Body Cleanser. Patchouli's earthy sweetness grounds a restless mind, while Cedarwood, long used for building temples due to it's resilience, and calming aroma, centers a flighty spirit. Contains : Pure essential oils of Patchouli, Cedarwood, Bergamot, Mandarin, Geranium. 
LAVANDULA 100ml - The most versatile and nurturing of flowers, Lavender has a way of deeply calming and comforting all she touches. This single note body oil envelops you in its ethereal, floral-herbaceous aroma.
DREAMTIME 10ML - Quieten mental chatter and welcome a peaceful sleep. Lavender is the classic oil for instilling calm and relieving insomnia, while Clary Sage and Marjoram relax mind and body. Cedarwood and Patchouli help ground and settle restlessness. Contains : Pure Coconut oil, Essential oils of Bulgarian Lavender, Sweet Marjoram, Clary Sage, Mandarin, Atlas Cedarwood, Patchouli & Certified Organic Lavender flower. 
Roll over your temples and pulse points, and inhale deeply. Do not use if pregnant. 
$65.00