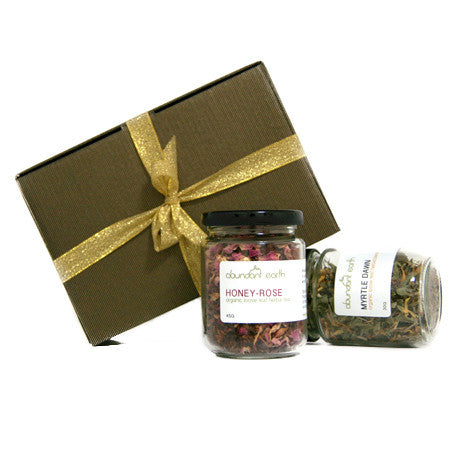 HERBAL TEA DUO 01 - HONEY ROSE & MYRTLE DAWN
CAFFEINE FREE, ORGANIC, LOOSE LEAF 
Our herbal tea duos are perfect for all lovers of tea! You'll find a selection of our most popular lifestyle blends gorgeously paired up in these gift boxes. 
HONEY ROSE 50G : A wonderfully fragrant blend of naturally sweet, antioxidant-rich Honeybush, with relaxing & comforting Pink Rose Petals. A great mid-day mini retreat. 
MYRTLE DAWN 40g : Deliciously aromatic and invigorating, Myrtle Dawn is like a fragrant dew-laced morning. There is enough spirit here to revive the weariest soul. Contains: Lemon Myrtle, Lemongrass, Lemon Verbena, Anise seed, Hibiscus, Calendula flower.
$35.00