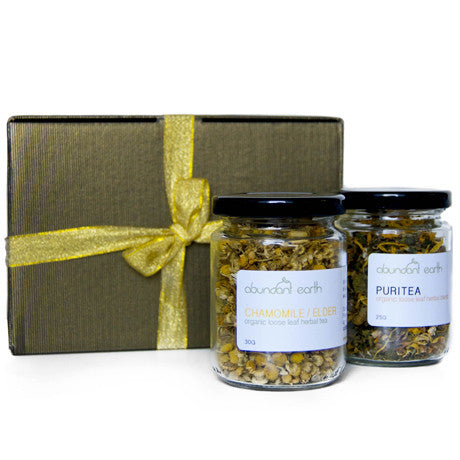 HERBAL TEA DUO 03 - CHAMOMILE/ELDER FLOWER & PURITEA
CAFFEINE FREE, ORGANIC, LOOSE LEAF 
Our herbal tea duos are perfect for all lovers of tea! You'll find a selection of our most popular lifestyle blends gorgeously paired up in these gift boxes. 
CHAMOMILE/ELDER FLOWER 30g : Relaxing & calming. The light honey-like flavour of Egyptian Chamomile Flower combines with the full floral bouquet of Elder Flower. Makes a nice, soothing cuppa at the end of a long, hectic day.  
PURITEA 25g: Trash those toxins. Feel lighter and sharper. This mineral-packed herbal synergy supports detoxification whilst nourishing your body. A good addition to slimming, weight loss and detox programmes. Contains: Nettle leaf, Burdock root, Red Clover flower, Calendula flower, Yellow Dock root.
$35.00