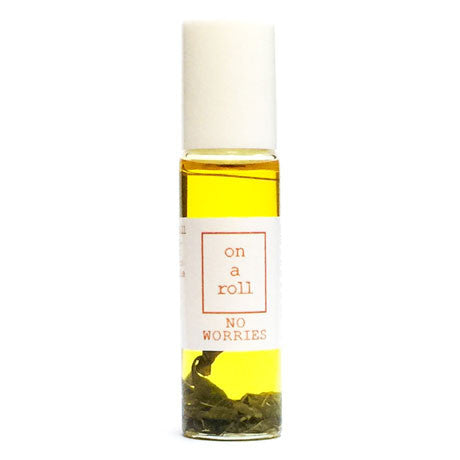 NO WORRIES, ON A ROLL - BE HAPPY
AROMA ROLL-ON, 10ML
For happiness and positivity. This blend of cheerful citrus oils is ideal for people who take life too seriously, and have forgotten how to smile. Peppermint, Rosemary and Spearmint excite and awaken a dull, uninspired mind, while Ylang Ylang arouses passion. 
ON A ROLL is aromatherapy on the go. It is a range of aroma blends created at perfume strength, to boost your mood and enhance your day. Packaged in convenient roll ons, you can use them anywhere, anytime. Roll over your temples and pulse points for a quick recharge. Makes the perfect massage oil - roll across the back of your neck and shoulders, and massage in to dissolve tight spots. 
:: SMALL BATCH BLENDS WITH GOOD VIBES ADDED :: Each roll-on is thoughtfully hand-bottled, and contains a sprinkling of dried organic Lemon Verbena, transforming and intensifying your blend with each passing day, as the dried leaves slowly infuse through it.  
Contains : x
Alcohol free. No synthetic fragrances, just essential oils & aromatic herbs. 
$32.00